Stainless steel vessels, tanks and apparatus according to customer's requirements
Since the foundation of BUTTING, the close relationship with many leading companies of the paper and pulp industry has been part of the company identity. Numerous 1000 projects have been realized worldwide to date. The know-how as well as the reliability and versatility of our site staff have become a BUTTING trademark.
A further foundation stone of the successful commitment in the paper and pulp industry has been our one-stop service: the production of both vessels and stainless steel pipes, CAD planning, cost saving prefabrication of piping components and their installation on site, as well as site management, all rolled into one package, will increase the efficiency of your project.
BUTTING in Schwedt specialises in the construction of stainless steel vessels, tanks and apparatus within the BUTTING Group. In 2012 the heaviest pressure vessel in the company's history was produced. Having a proud weight of 59 tons and measuring 31,2 x 4,9 x 5,3 m (L x W x H) it left the company premises in the direction of South Africa.
BUTTING – Progress by Tradition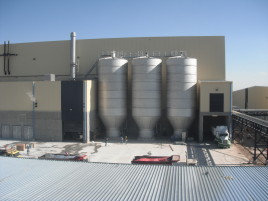 Sector
Paper and pulp industry
Extent of supply
29 stainless steel tanks and vessels
Dimensions
Vessels up to a maximum size of 31,2 x 4,9 x 5,3 m
Material grade
1.4162
Special features
Shipment in one piece by sea freight
Construction site support at the customer's