BUTTING – our global partners
Our distribution structure is based both on the international subsidiaries of the BUTTING Group and the activities of our partners in various parts of the world. We are thus close to our customers and their projects.
Our global distribution network enables us to react to the needs of our customers spontaneously and to respond fast to project-specific requirements. Together with professional external partners we are at your service – all over the world.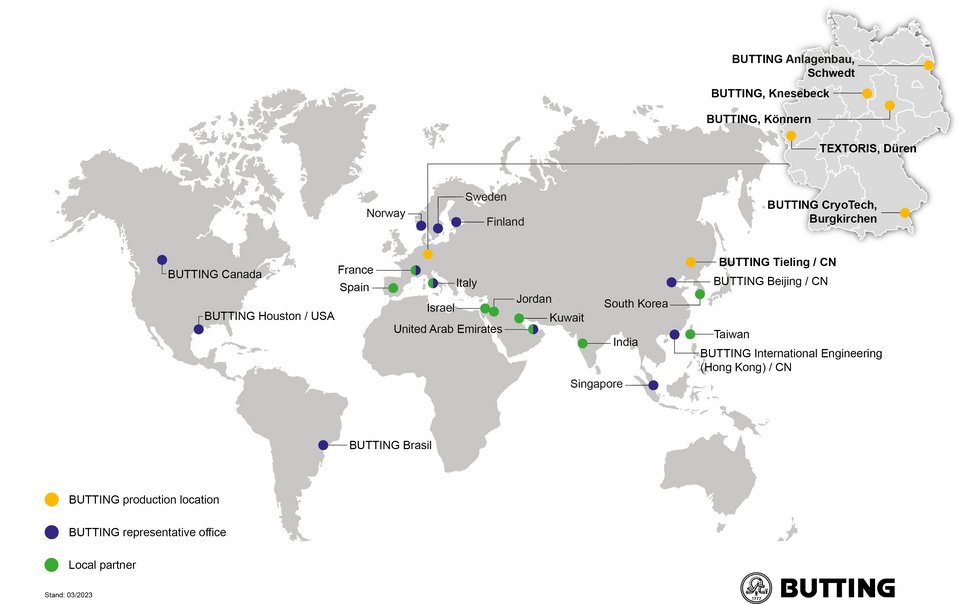 Contact information of our representative offices:
Brasil
Uwe Margraf
Managing Director BUTTING Brasil
+55 11 9 8245 7184
uwe.margraf@butting.com
BUTTING Tubos de Inox Ltda.
Rua 7 de Setembro, 967 - Sala 24 - Centro
89010-201 Blumenau, SC
BRA
Canada
Markus Hahn
Managing Director of BUTTING Canada
+1 403932-5844
markus.hahn@butting.com
Butting Canada Ltd.
#114, 280 Midpark Way S.E.
Calgary, AB T2X 1J6
CAN
China Tieling
Jens Ellermann, Heike Hermann, Marcel Bartels (board chairman)
Managing Director in BUTTING Group
+49 5834 50-7155
marcel.bartels@butting.de
Butting (Tieling) Co., Ltd.
Guantai Industrial Park, Economic Development Zone
112000 Tieling, Liaoning Province
China
China International Engineering
Longwen Guo
Sales Director Butting International Engineering
+86 139 1869 1060
longwen.guo@butting-engineering.com
Butting International Engineering (Hong Kong) Ltd.
26th Floor, Beautiful Group Tower, 77 Connaught Rd.
Hong Kong
CN
Finland
France
Adrien Guittet
Business Development Manager
Phone: +33 (0)4 56 19 00 18
Mobile: +33 (0)7 62 10 83 81
adrien.guittet@butting.de
H. Butting GmbH & Co. KG
Gifhorner Straße 59
29379 Knesebeck
GER
Italy
Raimondo Curridori
BUTTING Manager Italy
+39 366 506 4626
raimondo.curridori@butting.com
H. Butting GmbH & Co. KG
Via Residenza Cantone 232
20054 Segrate (Milano)
IT

Norway
Singapore
Lorenzo Ravasi
BUTTING Manager Asia-Pacific
+65 822 07 861
lorenzo.ravasi@butting.com
1 Irving Place
#05-04 The Commerize @ Irving
Singapore 369546
SGP
Sweden
United Arab Emirates
Simon Howell
Sales Director MENA Region
Phone: +971 (0) 4 879 0702
Mobile: +971 (0) 50 557 8018
simon.howell@butting.de
The One Tower
The Place 24th Floor
Office No 22
Sheikh Zayed Rd
Dubai
UAE
USA (Houston)
Patrice Brossard
Sales Director North America
+1 281 798 6078
patrice.brossard@butting.com
Butting Houston Inc.
Houston TX 77024
12458 Woodthorpe Ln
USA

Contact information of our local partners:
France
India
Israel
Italy
Jordan
Kuwait
South Korea
Spain
Taiwan
United Arab Emirates
BUTTING – Progress by Tradition