BUTTING – Part of the chemical industry
A great number of projects in the chemical process industry rely on the approved BUTTING quality. Our long-standing experience in the production of stainless steel materials, i. e. the big range of standard pipes available from our stock in various material grades (also 1.4539), piggable piping systems for components in special alloys to be produced according to very stringent technical specifications, will support and assist you in your sophisticated tasks. We have been an approved supplier for many years to Bayer, BASF and Infraserv, to name a few.
The chemical industry is very important to us as it gives rise to innovations. In cooperation with end users and producers a new standard was created, viz: DIN 2430-1, the first German specification for piggable pipes, based on a BUTTING internal works standard.
BUTTING – Progress by Tradition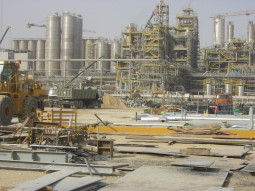 Sector
Chemical industry
Project
Stainless steel pipes for transport of coustic soda
Extent of supply
20 t of stainless steel pipes, pipe elbows made from two halves,
reducers, T-pieces, flanges
Material grade
Lean Duplex, Duplex, 1.4571
Dimensions
114.3 x 3.6 mm
88.9 x 3.2 mm