High up: architectural design in stainless steel
Timeless beauty and high cost-effectiveness - stainless steel has become an all-round talent in all areas of civil engineering. From structural engineering and facade lining to interior decoration and technical purposes - BUTTING products are used in many different applications. Any kind of surface treatment or machining required by our customers can be dealt with owing to the many processes available at BUTTING, e.g. grinding, shot-peening, glass bead peening, cutting and milling.
At this moment in time the Burj Khalifa in Dubai is the highest building in the world with 818 m. For this prestigious building BUTTING has supplied special pipes. Besides their decorative function, the facade pipes must also comply with load requirements: at all levels the tower is furnished with devices for the maintenance and cleaning of the facade. The BUTTING pipes serve as rails.
BUTTING – Progress by Tradition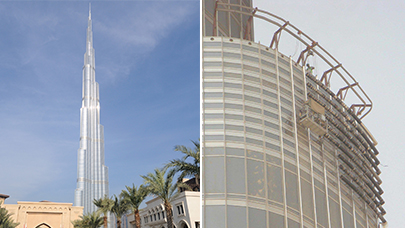 Sector
Architecture and design
Project
Facade pipes for the Burj Khalifa
Extent of supply
11 200 m of design pipes and structural pipes
Material grade
TP 316L / 1.4404
Dimensions
Outside diameter 273 mm
Fixed lengths from 5 to 12 m
Wall thicknesses 3,0 / 5,0 / 8,0 / 12,5 mm
Special features
Sophisticated surface finish with Ra ≤ 0,5 µm