Stainless steel pipes for the water and wastewater technology
In water treatment plants, the selection of appropriate material grades is indispensable. However, equally important are efficient processing and proper handling of stainless steels in order to guarantee longevity of the piping system, thus minimizing investment and maintenance costs considerably.
Due to a very high degree of prefabrication at the workshops, BUTTING offers very good quality products reducing assembly costs considerably at the same time. An efficient team of engineers, sales people and assembly operators is at your entire disposal for any advice you may need during the project - from the selection of the right materials and sizes to the installation of the semi-finished parts.
To date we have realized more than 100 projects. Water treatment plants all over the world rely on the longevity and supreme quality of BUTTING piping systems.
This is why we received an order for the supply of stainless steel pipelines for the drainage system of the runways of the biggest German airport.
BUTTING – Progress by Tradition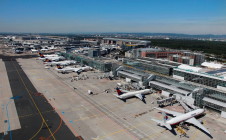 | | |
| --- | --- |
| Sector | Water and waste water technology |
| Project | Pipelines for a drainage system at Frankfurt airport |
| Extent of supply | ODs from 600 up to 1 200 mm |
| Material grade | 1.4571 |