Prefabricated stainless steel pipelines for sea water desalination
Since more than 25 years BUTTING has been supplying corrosion resistant and pressure resistant stainless steel pipes, pipe equipment and prefabricated piping components made from special alloys for sea water desalination plants all over the world.
We offer our customers a wide range of services, from the production of pipes and prefabrication right through to site supervision and support. By our expertise and highest quality standards we can offer our customers perfect service and cost efficiency.
BUTTING – Progress by Tradition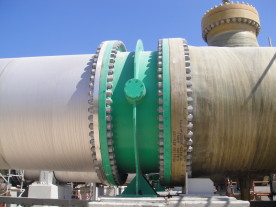 Sector
Sea water desalination
Project
Sea water desalination plant for 135 000 m³ of desalinated water per day
Extent of supply
70 tons of stainless steel pipes
Dimensions
Stainless steel pipes with ODs from 1" to 8"
Distribution pipes from DN 250 to 400, with 600 weld on nozzles
Material grade
TP 316L, duplex, superduplex
Speacial features
Site supervision and support at the customer's